LGCL Simplifies Villa Purchase for its Customers through the 'Happy Freedom Month' Initiative

Bengaluru: Independence Day denotes the spirit of freedom, and nothing else portrays the true essence of liberty than breathing easy in your own space – your home. With the special day around the corner, LGCL, a premier real estate company known for its cutting-edge architecture, announces the 'Happy Freedom Month' initiative, offering home buyers a grand opportunity to buy their dream villa without the hindrances of down payment and high interest rates for its luxury villa project 'NEW LIFE', Sarjapur. Valid exclusively for this August, this month long extravaganza comes with just a five percent down payment and freedom from pre-EMI. The fully furnished villas offer a secure gated community equipped with maintenance staff, jogging track, 24-hour electricity backup, recreational space, ATM and many more amenities. Customers can now enjoy hassle-free villa purchasing, making it easier for them to expedite their finances into buying their dream home.

Girish Purvankara, Chairman & Managing Director, LGCL avers, "With our innovative plans, we aim at de-burdening our customers and help them out with the cash crunch that often comes with buying homes and properties". Girish is a real estate expert known for his excellence in creating unique value and redefining luxury while developing niche living spaces, with more than two decades of experience in the Bengaluru real estate industry. Under his leadership, LGCL has evolved into a premium 'villa specialist'.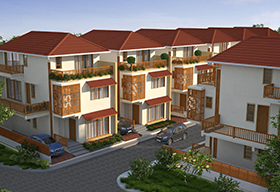 The 'Happy Freedom Month' is first of its kind in the real estate industry that undertakes the entire cash and business hassles off the customers who are solely left with the responsibility of paying their loans post possession. LGCL has tied-up with Piramal Homes Finance and Sundaram Home Finance to aid to the consumers in leveraging the financial assistance for the purchase.