Indian Real Estate through the Year 2017 & Expectations for Future 2018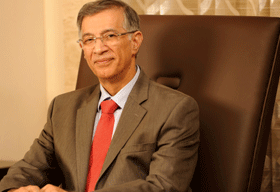 While the year started with demonetization the impact continued almost till April 2017. Then we had the Benami Properties Act, followed by RERA and GST – and then, the amendment made to the Bankruptcy and Insolvency Code. This is a list of new regulatory aspects which impacted stakeholders. This constitutional reforms has re-written the functioning of the real estate industry. For one, right since Jan 2017 till the festive season started towards the second half, 2017 was largely a year of slow market; sluggish sales and a 'wait and watch' attitude on part of home seekers.
Interestingly, commercial RE performed very well across 2017. To give our own example, we began 2017 by completing Hiranandani Signature, a 16 storey commercial tower with four lakh sq. ft. of office space in Gujarat's GIFT City; similarly towards end-2017, we completed TCS Olympus Centre, two million square feet of 'built to suit' office space in Hiranandani Estate, Thane. In Panvel, we have arguably the single largest commercial spaces cluster in the MMR already developed and are ready for possession. For commercial realty, in 2017 it has done good, should do better in 2018.
In wake of the disruptive events over 2016-2017, Affordable Housing has emerged as the driver of real estate
growth through 2017, given the initiatives and support from the government. Home Finance also being at record low interest levels provided the extra 'boost' needed to ensure that a home seeker finds a 'dream home' becoming a reality.. With Affordable Housing emerging as the rising star, the Government also made efforts to boost the mission of 'Housing for All' by 2022. We saw some good moves, like the policy reform under PMAY, which hiked the earlier MIG-1 carpet area of 90 sq.m to 120 sq.m and the earlier MIG-2 carpet area of 110-150 sq. m. So, in these few aspects, 2017 was positive.
Would one define 2017 as a year favourable for realty buyers, or a year for realty developers? I would not make this an 'either - or' scenario. This was truly a year that was favourable - as also challenging - for both, buyers and developers. With series of remodelling laws introduced to redefine Indian Real estate, there was effective impact on the each of the industry stakeholders. Once, the dust of these reforms started settling down as developer and customer got themselves accustomed to the rules & regulation prescribed in the new Acts, few markets like Western and Southern region showed the sign of revival. Talking about these radical changes it has surely brought in much required transparency, trust, customer safety mechanism and accountability into the place. This has surely rekindled the interest level of global and domestic investors along with the fence sitters turning into end users.
Affordable Housing has emerged as the driver of real estate growth through 2017, given the initiatives and support from the government
Did that the Events of 2017 Bring Sustainability to Indian Real Estate?
If one looks at the construction scenario and other aspects of real estate, a combination of global best practices and native methods would seem to be the apt way of achieving this goal - and Indian real estate largely, has taken this route through 2017. It is not just the regulatory regime, tweaking policies as also introducing new policies has been a 'work in progress' scenario in India across 2017. Over the years, the industry has been communicating with various governments about changes required in policies so as to give a positive boost to real estate - and we have seen this happen in the 'affordable housing' segment. We need such positive changes in policy across all segments of real estate. Some of the required changes have been implemented, some are under 'serious consideration' and some are yet to be taken up. So, quicker permissions and clearances, translating 'ease of doing business' into the actual process of planning - executing - completing projects, making low cost institutional credit available to the industry; it is a long list, which has largely remained constant through 2017.
Finally, looking at the outlook 2018 and the future, rationalization of tax as a result of the move to cover real estate fully under GST, and providing a boost for rental housing are the two key drivers to look forward to. In a nutshell, 2017 for the real estate sector has definitely been happening and good – in the long run. In the short run, it can actually be termed 'challenging' with the 'revival' happening from the festive season.
To sum up in a nutshell, future of Indian RE looks very bullish and it shall grow at the CAGR of 5-6 percent. It will be a leading contributor for perennial job creation and economic growth of the country. Mega infrastructure framework will redefine the reality of Indian Real Estate growth story.